The Commlog is a general purpose log of all communications with a patient.
In the Main Toolbar, click Commlog.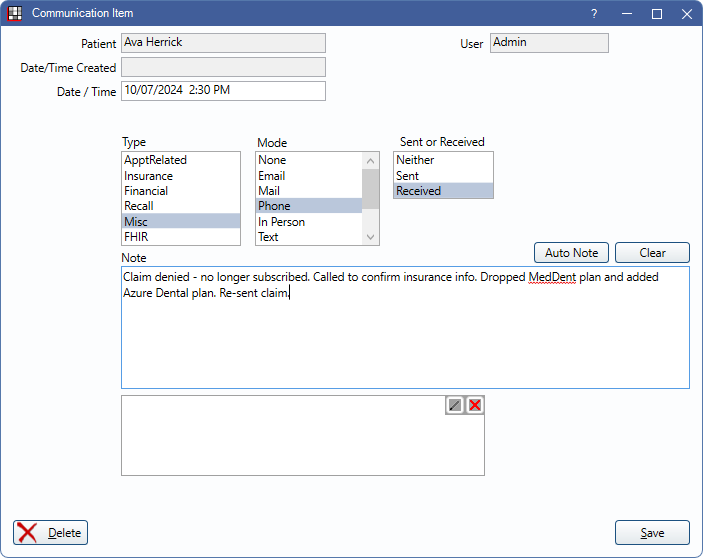 Alternatively:
A log of all commlog entries show in the Account Module, Chart Module, Edit Appointment, and Recall List.
In some cases, the commlog window may open automatically to prompt an entry after an action:
Patient: Displays the patient associated with the commlog.
Date/Time Created: Displays the date and time the commlog was created. This field is not editable. This field will be blank for commlogs created prior to version 22.2.1.
Date / Time: Displays the date and time of the commlog. This field is editable and can change the commlog's placement in the Chart Progress Notes area and Account Communications Log area.
Types: The options that show are those listed in Definitions: Commlog Types. In some areas of Open Dental, a commlog's default type is set based on where the commlog is created. Below are the default commlog types and associated usage types available in Open Dental. Type does not affect sorting of commlogs. These can be edited in Definitions.
ApptRelated: Attached to APPT usage type by default.
Insurance: No default usage type.
Financial: No default usage type.
Recall: Attached to RECALL usage type by default.
Misc: Attached to MISC usage type by default.
FHIR: Attached to FHIR usage type by default.
Mode: The method of communication. Modes are not customizable.
None
Email
Mail
Phone
In Person
Text
Email and Text
Phone and Text
Sent or Received: Direction of communication. These options are not customizable.
Note: Enterprise users can default commlogs to not set a default type, mode, and sent/received status. See:
Commlog fields blank by default
in
Enterprise Setup
.
Edit Auto Note: This button only appears if an Auto Note has been used. Click to complete Auto Note that may have been left unfinished.
Auto Note: Add Auto Notes to the commlog note text.
Clear: Clear contents of commlog note.
Note: The commlog text. Once a note is added to a new commlog, you must click OK to save or Delete.
Signature Box: Enter an Electronic Signature. Saved signatures are cleared if changes are made to a Commlog.
In some cases, a commlog entry is automatically created after an action:
Sending individual text messages.
Sending text messages or printing postcards from the Confirmation List.
Automatically Save Commlogs
New commlogs in progress can be set to auto save on a 10 second timer, if a change was made in that time. Auto Save is only available for newly created commlogs.
The date and time in the window header shows when the commlog was last saved.
Enable the Commlogs Auto Save preference. With or without the preference, commlogs in progress are automatically saved when Open Dental shuts down unexpectedly (e.g. during an update).
Automatic Commlogs
Some commlog entries are automatically created by the OpenDentalService, eConnector, FHIR, etc. and, have no user associated. These commlogs will show as one line of text. Double-click the commlog to view the entire message.
Automated commlogs can be hidden from these areas using the Show Automated Commlogs preference:
The preference to hide Automated Commlogs is saved per user.
Navigation
Commlogs can include links to outside sources or other places within the program. Right-click a commlog from the Progress Notes or Account Module to open a link.
File Explorer: Opens a folder in the File Explorer.

UNC paths must end in a file or a backslash. For example \\Server\OpenDentalExports won't work, but \\Server\OpenDentalExports\ or \\Server\OpenDentalExports\File.txt will.
If a folder name contains punctuation or special characters, the folder may not open.

PatNum: Select the patient in Open Dental. Enter the patnum immediately after the colon. (e.g. patnum:234)
TaskNum: Open the task in a new window. Enter the task number immediately after the colon. (e.g. tasknum:789)
Web: Open a URL in your default web browser.
Wiki: Open the corresponding wiki page. Enter the page name in two brackets (e.g. [[page name]])