In the Main Menu, click eServices, eClipboard.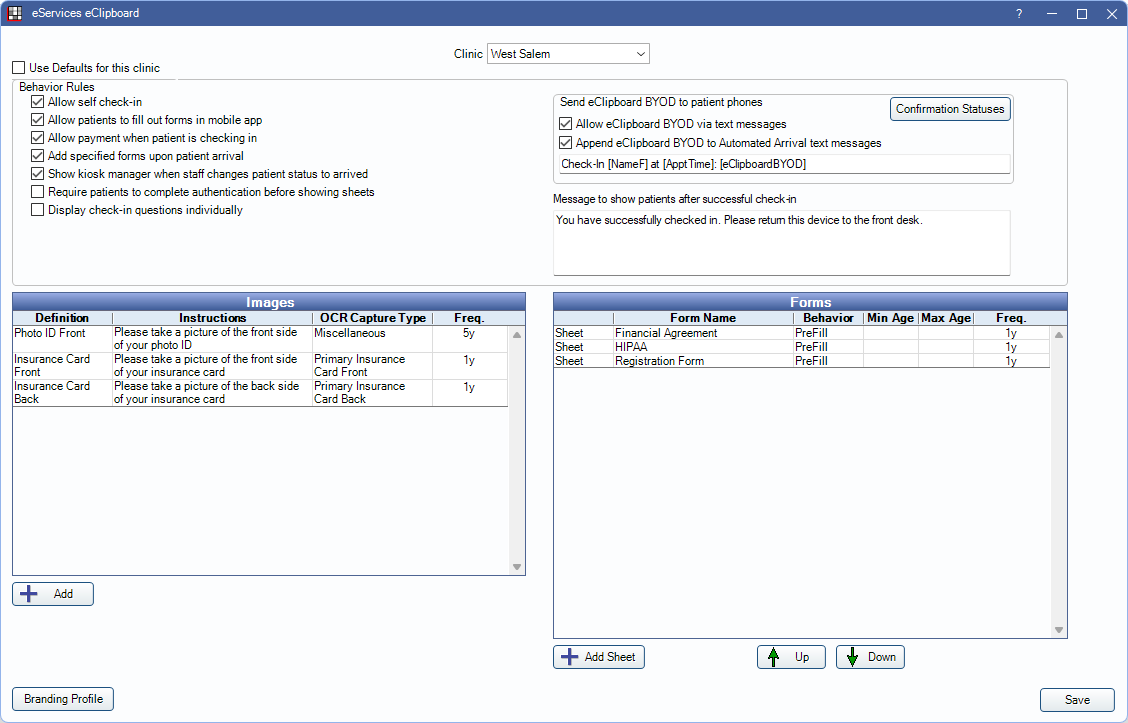 To begin using eClipboard, first Sign up for the service.
eClipboard can be found on the App Store and Google Play.
Details on using the app can be seen here: eClipboard: What Patient Sees

Webinar: eClipboard.
Setup Options
Clinic: Select clinic from the dropdown to create clinic specific settings.
Behavior Rules:
Allow self check-in: If checked, patients are allowed to search their own name, select their appointment and check-in. They will be marked as arrived, and added to the Waiting Room.
Allow patients to take self-portrait in mobile app: If checked patients will be able to use the device camera to add a Patient Picture from the app. Pictures are immediately imported into Open Dental.
Allow patients to fill out forms in mobile app: If checked, the app will function as a Kiosk where patients will be able to fill out forms defined below while checking in via the app.
Add specified forms upon patient arrival: If checked, forms defined below will be added automatically upon arrival.
Show kiosk manager when staff changes patient status to arrived: If checked, Kiosk Manager will be opened for user who sets patient as arrived to allow forms to be sent to the app.
Message to show patients after successful check-in: Create personalized message to display in app once patient completes check-in.
Specify which forms are added upon patient arrival:
Available Sheets (Custom Sheets Only): Custom sheets available to be added for use in eClipboard. Sheets must have Mobile Layout enabled. Select a sheet in the list and use the blue arrow to move it to the Sheets in Use grid.
Sheets In Use: List of sheets added upon patient arrival if option above has been enabled. Highlight sheet in grid and use blue arrow to remove sheet from use. Double-click to edit Frequency:

Enter number of days before patient will be asked to resubmit this form.
Add Custom Sheets: Click to open Sheets to add more Custom sheets to the list of those available.
Mobile App Devices: List of tablets and smartphones that have logged into this database via the iOS or Android eClipboard app. Click in the Enabled row to make devices active for use.
Device Setup
Install eClipboard to each device being used in the office. If asked to allow notifications, select Yes.
Launch the app and login using the credentials created for eClipboard during eServices Signup.
Once logged in, the device will list in the Mobile App Devices grid in the screenshot above. Click in the Enabled column on each device to make it active for use.
Lock eClipboard to prevent patients from accessing other areas of the device.
On Anroid, enable Pin Windows.
On iOS, enable Guided Access.
Appointments
A patient must have an appointment scheduled for today's date for eClipboard to populate their information. If the appointment is on a different day, or the patient is new to the office, have them go to the front desk. Once they are scheduled for today's date they may use eClipboard.